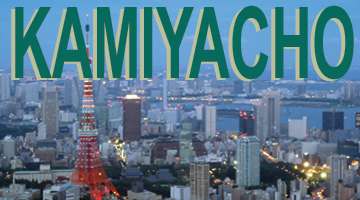 Kamiyacho is a downtown business area full of offices. To get to the American Embassy, walk past the Okura Hotel and continue toward Akasaka. The American Club is located at map A-3, next to the Russian Embassy. The ACCJ offices are located in the 39 MT Bldg, map A-4. Tokyo Tower is a few minutes from exit 1.

KAMIYACHO MAP / 神谷町 地図 東京


KAMIYACHO RESTAURANTS / 神谷町 レストラン

Mad Mulligans
Delicious Lunch and after work oasis. British style bar with Continental Cuisine. Open Mon-Fri 11am-2am, Sat 4pm-midnight. 3-18-21 Toranomon. Tel: 3578 8980. map E-5.
Town Cryer
British pub serving a variety of dishes. Lunch M-F 11am-2:30pm. Open daily 11am-12mid, Thu/Fri to 2am, Sat 6pm-12mid. 4-1-17 Toranomon, 2F. Tel: 03-5401-9995 Near Exit 4b. map E-2.
Volga
Russian cuisine in opulent setting. Open 11:30-14:30, 17:30-23:30. 3-5-14 Shiba-koen. tel: 3433-1766. map B-5.

KAMIYACHO BARS and CLUBS


KAMIYACHO MAP / 神谷町 地図 東京


TOKYO SUBWAY MAP IN ENGLISH / 東京地下鉄路線図


TOKYO TOURIST MAP IN ENGLISH / 東京地下鉄路線図


RETURN TO HOME PAGE