TOKYO NAKAMEGURO NORTH MAP in ENGLISH / 東京 中目黒-北 マップ
The Nakameguro neighborhood continues North from the station all the way to Route 246. It is a pleasant trendy neighborhood of shops and restaurants with the Meguro River passing through one side. Together with the area around Nakameguro station, it is a great place to spend an afternoon and grab a bite. Be sure to check out the Meguro Sky Garden, a small park high above the area. Click below tabs for listings for Shopping, Restaurants and Things to Do!
CLICK TAB on right for high-res printable map of Nakameguro-North (PDF)!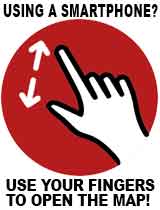 Printable Map of Nakameguro-North in English (PDF)!