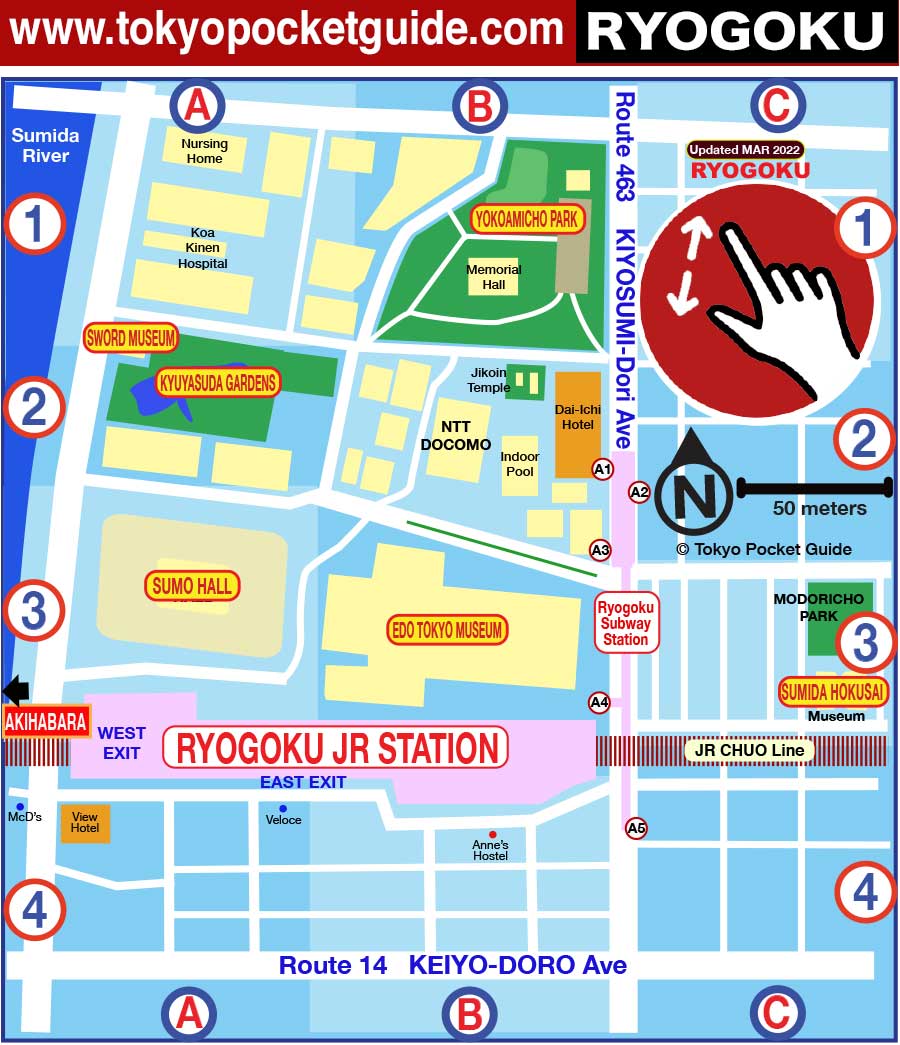 RYOGOKU STATION (SUMO HALL) AREA MAP with THINGS TO DO
Ryogoku Station is right next to Sumo Hall where Professional Sumo bouts are held. Also nearby is the gigantic Tokyo Edo Museum. A short walk away is Yokoamicho Park with a nice Memorial Building, the ultra modern looking Sumida Hokusai Museum, the Japanese Sword Museum, and the Kyuyasuda Gardens. See below list of things to do while visiting Ryogoku station!
SUMO HALL - Ryogoku Kokugikan
Sumo Hall is where Professional Sumo Tournaments are held in Tokyo. There are three tournaments held every year in Tokyo - in January, May, September. For info about buying sumo tickets online, click the below website button.

RYOGOKU MAP A-3
SUMIDA HOKUSAI MUSEUM
Dedicated to the works of Katsushika Hokusai, an edo period artist whose works gained worldwide fame, the museum has a lecture room, a library, a permanent exhibition space and a room for special exhibitions.

RYOGOKU MAP C-3

KYUYASUDA GARDEN
This traditional garden area was made by Japan's 5th shogun in the 1700's and features pathways through flower gardens, lawns and a small lake. Generally open between 9am and 6pm.
RYOGOKU MAP A-2
JAPANESE SWORD MUSEUM
Learn all about Japanese swords at this museum located near the Kyuyasuda Gardens. Exhibitions show the various types of swords, the names of the different parts, and the history of swords in Japan.

RYOGOKU MAP A-2
YOKOAMICHO PARK
This park is topped with a pagoda dedicated to those who died in the park after the 1923 Tokyo Earthquake. There is also a memorial hall to those who died in the bombings during WWII, a garden area and a children's play area.
RYOGOKU MAP B-1
Tourist Map of Ryogoku (Sumo) (PDF)!
Tweet