TOKYO UENO MAP in ENGLISH
Ueno is a bustling mini-city with one half devoted to shopping and restaurants, the other half a park area with a zoo, museums, and theater halls. It's a bit grittier than other areas of Tokyo, with the Ameyoko shopping street being open air and market style, but there are also large department stores and shops. Click below tabs for listing for Shopping, Things to Do and Hotels!
CLICK MAP TAB on right for high-res printable map of Ueno (PDF)!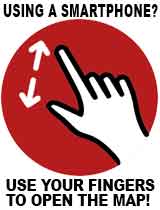 Printable Map of Ueno in English (PDF)!