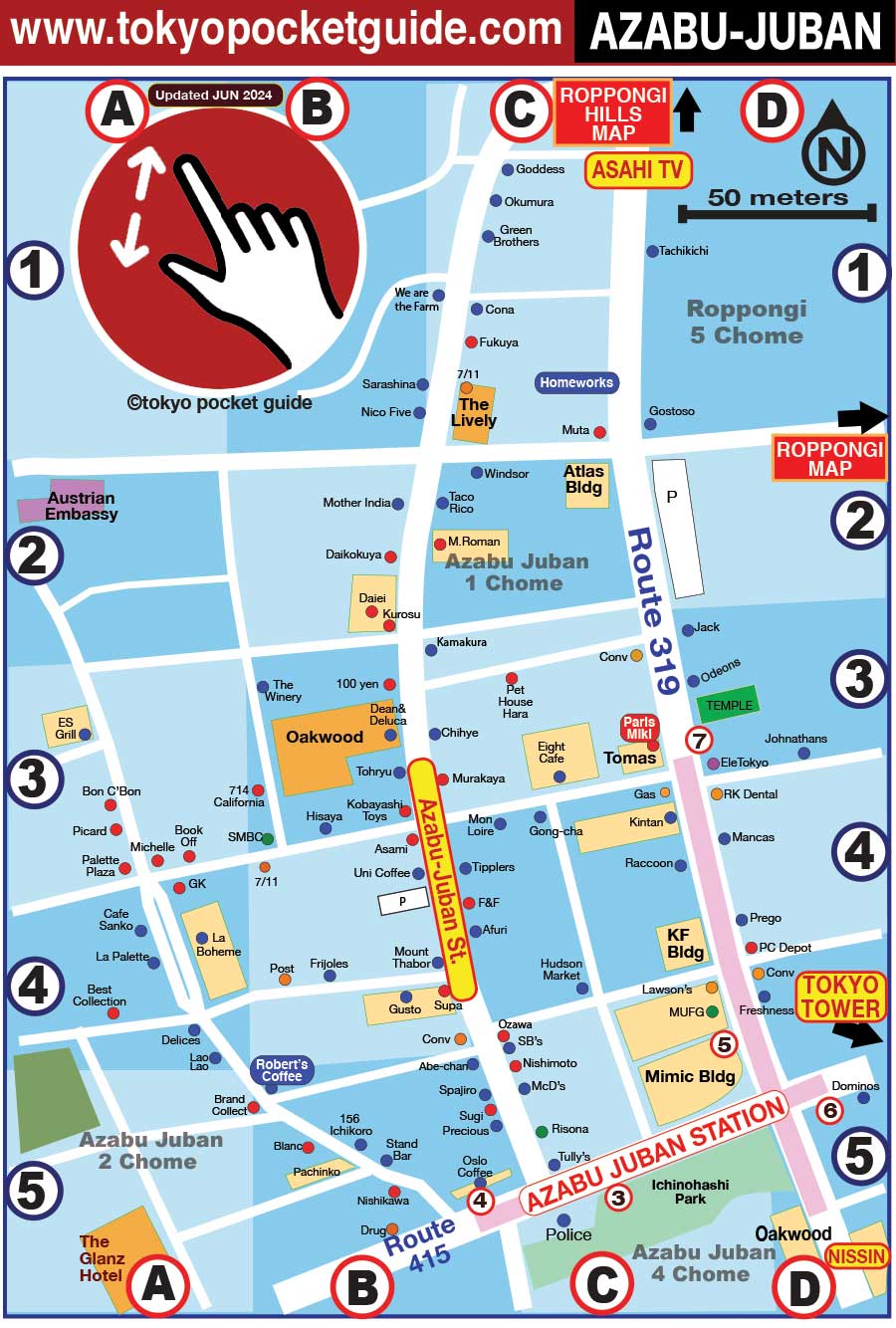 AZABU JUBAN THINGS TO DO and TOURIST ATTRACTIONS
Only a 5 minute walk from Roppongi Hills, Azabu-Juban is a pleasant little neighborhood full of small shops and a variety of restaurants. Its brick main street gives it a small town feel and the atmosphere seems far from the bustle of the big city

TAKE A STROLL
It's fun just to take a walk around Azabu-Juban, since it's a nice area of brick streets and small alleys. The main drag, Azabu-Juban street, is lined with little shops, bakeries, restaurants and cafes.
AZABU JUBAN MAP B-3

ROPPONGI HILLS
Up the hill from Azabu-Juban is Roppongi Hills - a giant office complex with maze of upscale shops and fashions. The top of Mori Tower has an outdoor observatory and a museum.
AZABU JUBAN MAP C-1
TOKYO TOWER
There are two observatories at 150m and 250m, and a food court in the building beneath. To get there walk up Rt 415 and turn right on Gaien-Higashi dori (Rt 319).
AZABU JUBAN MAP D-5

ASAHI TELEVISION
Asahi Television has a showroom and tourist shop with goods for sale. To get there go towards Roppongi Hills on the left side. It is across the road from a Starbucks and a Tsutaya.
AZABU JUBAN MAP C-1
NISSIN WORLD FOODS
A step away from Azabu-Juban subway station, Nissin is one of the premier foreign food supermarkets in Tokyo. Missing your favorite snack product from back home? They might have it here!
AZABU JUBAN MAP D-5

ROPPONGI
The nightlife area of Roppongi has lots of bars, clubs and a good number of restaurants. It is known as an area where foreigners go out, and most places have English speaking staff and menus.
AZABU JUBAN MAP D-2