TOKYO KOENJI MAP in ENGLISH / 東京 高円寺 マップ
Koenji is a small, but lively station area about 10 minutes by train west from Shinjuku station on the JR Chuo line. Both sides of the station have shops and restaurants, and there is a covered shopping street 'Koenji Pal' to the south-west of Koenji Station. Click below Tabs for listing for Things to do, Restaurants, Hotels, and Shopping!
CLICK TAB on right for high-res printable map of Koenji (PDF)!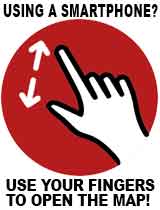 Printable Map of Koenji in English (PDF)!