TOKYO NAKANO MAP in ENGLISH / 東京 中野 マップ
Nakano is station area about 10 minutes west of Shinjuku. It has a lively district of restaurants and bars, as well as a covered shopping area 'Nakano Sun Mall' and 'Nakano Broadway' on its North side. Click below Tabs for listing!
CLICK TAB on right for high-res printable map of Nakano (PDF)!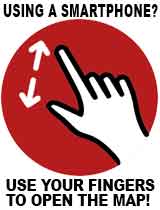 Printable Map of Nakano in English (PDF)!