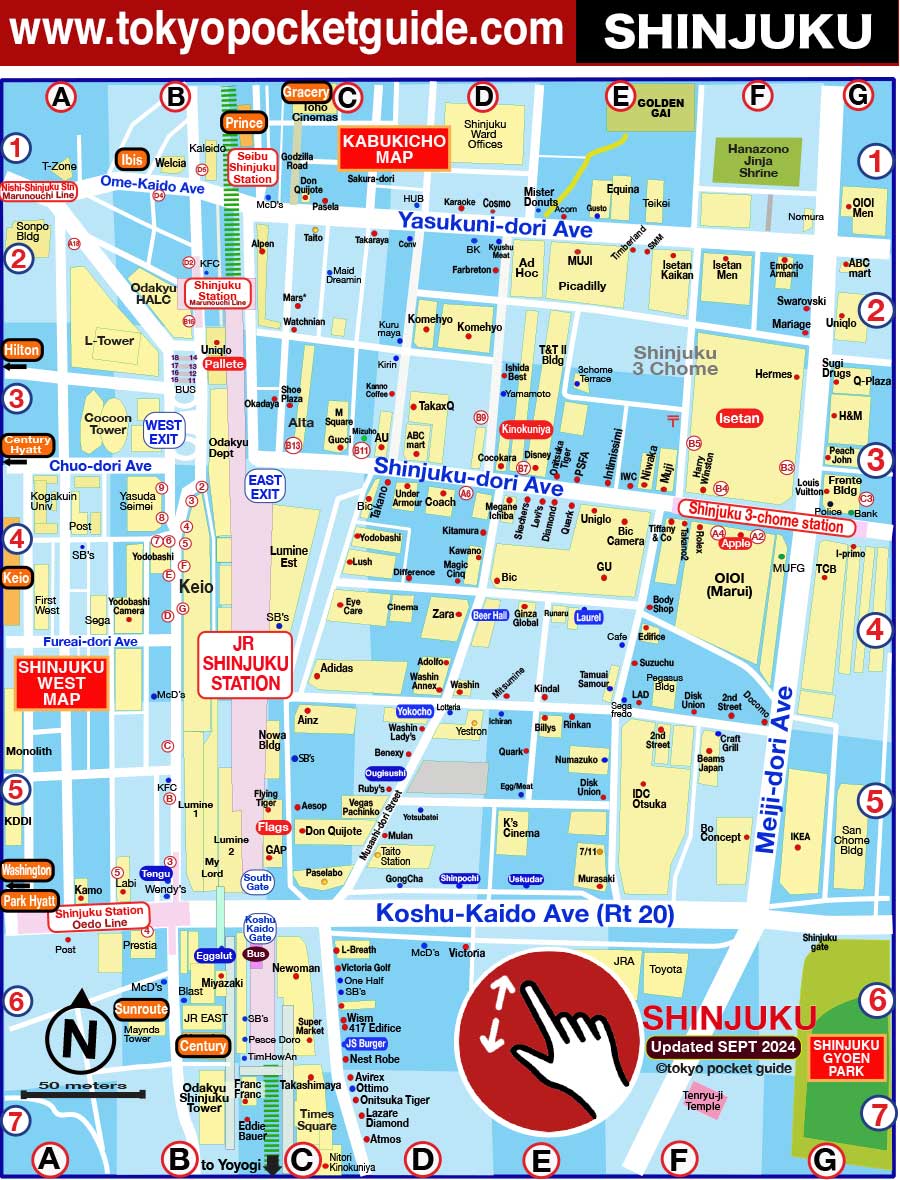 SHINJUKU SHOPPING MAP in ENGLISH
Shinjuku shopping is big city shopping, with big department stores and massive shops for fashion, beauty and gifts. The West side is a mix of tall buildings and hotels, together with electronic outlets and gritty shops. The East side of Shinjuku is the main shopping area, with shops and stores in every direction. See below listings for some of the best shopping in Shinjuku!

SHINJUKU DEPARTMENT STORES & MALLS
FLAGS SHINJUKU
Outside the south exit of Shinjuku station, Flags Shinjuku is multi-level with several large chain stores on different floors. There are some good restaurants as well.
SHINJUKU MAP C-5
PALETTE TOWN SHINJUKU
The large Pallete Town building in Shinjuku has retail shops on its lower floors, and tasty restaurants and cafes on its upper floors. It's just a minute walk from the station!
SHINJUKU Map B-3
ISETAN SHINJUKU
The Isetan Department store in Shinjuku is one of the oldest and most prestigious shopping places in the neighborhood. There are many high end boutiques and shops, as well as posh eateries and restaurants.
SHINJUKU MAP F-3

SHINJUKU BOOKS & MUSIC STORES
KINOKUNIYA BOOKSTORE SHINJUKU
A massive multi-story bookstore in the heart of the Shinjuku shopping district, the Kinokuniya Bookstore has an English section with a good selection of different genres and bestsellers.
SHINJUKU MAP E-3
SHINJUKU ELECTRONIC STORES
APPLE STORE SHINJUKU
The Apple store in Shinjuku is located in the Marui Department store, and has everything one expects from Apple, including their signature I-phones, computers, watches and all their accesories and devices. Super friendly staff too.
SHINJUKU MAP F-4