TOKYO TRAINS, SUBWAY and METRO System
Tokyo has one of the world's most convenient and efficient train and subway systems. Usually station signs have both Japanese and English, and the station name is announced before arrival. If confused about the cost, buy the lowest price ticket and present your ticket to the gate keeper when exiting; if the amount is more, he will show you the amount you owe.

ALL DAY PASSES AND FREE KIPPU
If you're planning of doing a lot of train travel within the city, there is a 'Free Kippu' day pass which can be used on all JR train lines within Tokyo for 730 yen, or for 1460 yen to use all JR train lines and all the city subway and metro lines, buses and streetcars within Tokyo.

PASMO and SUICA CARDS
Getting a 'PASMO' card avoids the hassle of always getting tickets. PASMO cards can be bought at most ticket windows - look for the English option and follow the instructions, or get a staff person to help. The cards can be topped up when low. The amount remaining on the card is shown at the ticket gate when you pass through.

TRAINS DO NOT RUN ALL NIGHT
Keep in mind, trains and subways do not run all night, so check for last train times to avoid an expensive taxi ride hom. Subways run until about 11:30pm, and the last JR Yamanote-line run is near 12:30am.
BUSES
It's not recommended to ride a regular city bus unless you are accompanied by a Japanese speaker or can read Japanese; it can be confusing about what station you are at, and you might end up lost.
TOKYO TAXIS
The minimum fare is around 520 yen for the first kilometer and rises rapidly afterward. A meter box displays the amount, and you can ask for a receipt. Sometimes late night taxis tack on a small percentage. Many taxis have an English 'Menu' so you can point to your destination.

TO & FROM NARITA AIRPORT
Narita Airport is 66 kilometers outside of Tokyo, so what ever your mode of transport, be sure to give yourself plenty time (4 hours before your time of departure generally), and keep in mind there are two terminals - be sure you are getting off at the right one.

TRAIN
The Narita Express, leaves from Shinjuku Station (3150 yen, 74 min), and from Tokyo Station (2940 yen , 53 min) twice every hour. There is also the cheaper Keisei 'Skyliner' that departs from Ueno Station (1920 yen, 56 min), but keep in mind it's a 30+ minute ride from West Tokyo to Ueno.

BUS / AIRPORT BUS
Buses make the circuit between Narita and hotels and locations within central Tokyo. The trip takes about 80 min and costs 3000 yen~ depending where you get on. You may also board at the Tokyo City Air Terminal (TCAT) but they no longer allow passengers to check in early there.

TAXI FROM NARITA
Taking a taxi from Narita Airport into downtown Tokyo will cost 200 US dollars or more, so only recommended if the fare is easily covered.
TO & FROM HANEDA AIRPORT
All domestic and an increasing number of international flights use Haneda Airport, near Tokyo Bay. Monorail trains to Haneda airport leave every 10 minutes from Hammamatsu-cho station (on the JR Yamanote line). It takes about 15 minutes and costs 360 yen. If you are going directly from Narita to Handea, it might be more convenient to use the direct bus service than train lines.
TRAVELING BY TRAIN FROM TOKYO
Train travel to any other major city in Japan, probably means using the Shinkansen, the bullet train. All Shinkansens depart from Tokyo station, Southbound trains can also be boarded from JR Shinagawa station.

There are two different bullet train platforms at Tokyo Station, one for trains heading north to Niigata, and the other heading south, to Kyoto, Osaka and Fukuoka.

The quickest way to get a ticket is at the electronic displays which have English settings. Open seats are indicated by a circle, X indicates the train is full, a circled X indicates its almost full. While most trains have a few open seating carriages (in Japanese 'Giyu seki') getting a reserved seat will ensure you are able to sit down and is worth the small extra amount.

On the ticket, your carriage number, row number and seat letter are indicated. Be sure to hold on to your tickets, as the conductor will check during the ride, and you will need them upon exiting at your destination.

Food and drinks can be bought from a trolly that will occasionally be walked down the aisle.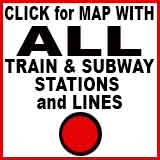 Printable subway map of Tokyo (PDF)!
Tweet