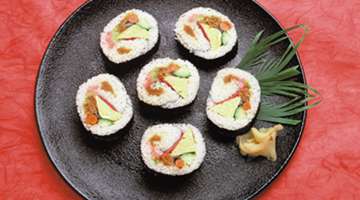 JAPANESE FOOD and NAGOYA DISHES
Tokyo is one of the great restaurants cities in the world. There are all types of foods available, but you'll definitely want to try some of the local cuisine Below is a basic introduction to Japanese food terms to help you out!

SASHIMI
Slices of raw fish or seafood on their own.
DONBURI
Bowl of rice topped with beef (gyu-don)
GYUTAN
Grilled cow tongue.
NEGIMAKI
Broiled strips of beef usually with teriyaki sauce and sliced Japanese onion.
SUKIYAKI
Beef slices which are cooked in sugar, soy or sake
SHABU SHABU
Beef and vegetables cooked in a boiling stew at one's table.
TEPPANYAKI
Dishes cooked and served on a hot iron plate.
TONKATSU
Fried pork served with a sweet sauce.
DONBURI
Bowl of rice topped with pork (katsu-don)
MISO KATSU
Deep fried pork cutlet topped with a thick and sweet miso sauce
YAKITORI
Chicken which has been cooked over open flame and served on a skewer.
TEBASAKI
slender chicken wings, deep fried with spicy sauce, a Nagoya favorite


UDON
Thick chewy noodles made from plain wheat flour
• Yaki-Udon - Fried Udon, together with meat and vegetables, topped with seaweed flakes.
SOBA
Thin curling noodles made from buckwheat flour.
• Kake-Soba - Soba served in a hot stew, together with tofu, chicken, vegetables, etc.
• Yaki-Soba - Fried Soba, together with meat and vegetables, topped with seaweed flakes.
• Zaru-Soba - Cold soba, served with chopped onions, seaweed and horseradish, and cold sauce.
RAMEN
Thin wheat flour noodles, usually yellowish in color, and served in a broth.
• miso ramen - noodles with miso flavored broth.
• shio ramen - noodles with salt flavored broth.
• shyoyu ramen - noodles with shoyu flavored broth
• tonkotsu ramen - noodles in broth with sliced pork

GYOZA
Fried noodle textured dumpling filled with minced vegetables and meat.
KUSHIAGE
Skewered meat, seafood, and vegetables, deep fried.
MOCHI
A chewy dough from pounded rice.
MISO SOUP
Soup mix of miso paste and grinded fish stock - sometimes with tofu and seaweed
NATTO
Fermented bean paste, with strong smell and texture.
NEGI
Japanese Onion, sliced small and thinly, and used as topping.
NORI
Seaweed, stamped into thin flakes, often used as topping
ODEN
Broth of tofu, vegetables, fish cakes, and eggs.
ONIGIRI
Hand sized rice balls with various fillings, wrapped in seaweed.
OKONOMIYAKI
Batter mixed with vegetables, and either seafood or meat topped with mayonaise or sweet sauce.
TACO-YAKI
Fried balls of batter mixed with octopus.
TAMAGO
Tamago means 'egg', and may be boiled 'yude-tamago', or put raw - 'nama tamago'- into dishes.
TEMPURA
Lightly battered seafood and vegetables.